Telescopic Underfloor Vent
Need some help?
If you need to speak to someone about this product, our sales and technical support advisors are here to help.
Get in touch >
BIM
We have partnered with the BIMstore to help provide you with the highest standard of BIM content around.
Browse BIM Information >
Product Description & Key Features
The G960 Telescopic Underfloor Void Ventilator is designed to provide a clear airflow passage to the void underneath a suspended floor. The telescopic feature enables the ventilator to adjust vertically between three and five brick courses. The right airflow can be achieved when the ventilator is used with a Manthorpe G930 Airbrick. The aperture can also accept a standard clay airbrick, although the airflow is reduced.
6,600mm² airflow
Allows ventilation to an underfloor void
Allows a vertical extension of 3-5 courses (215mm-365mm)
Additional depth and cavity span available with extension sleeve
Upper opening connects to an airbrick
Literature and Technical Info
pdf (253.02 KB)
pdf (134.85 KB)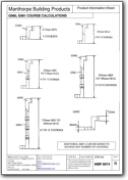 pdf (136.6 KB)