Cavity Trays, Closers & Barriers
Cavity Trays provide protection from water ingress below roof abutments with Cavity Closers acting as a thermal break for window and door reveals.  Cavity Barriers are essential to restrict the spread of smoke and flames within the fabric of the building.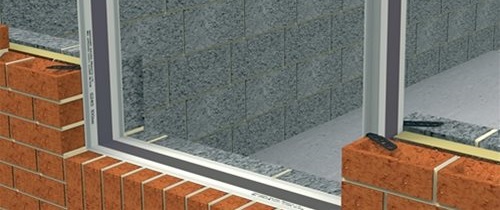 Heat loss and condensation through un-insulated door and window reveals can ruin an otherwise warm and comfortable home. Cavity Closers not only provide a thermal break at the reveal of both door and window openings, they also act as an effective vertical damp proof course (DPC), ensuring compliance with building regulations.
The Manthorpe range of Cavity Closers offers an economical solution to closing the cavity at window and door reveals without the need to return the block work while also solving cold bridging problems. Our Rigid Frame Formers can also be used as a dummy window former, these made to measure products can do away with the hassle and wastage of constructing temporary wooden surrounds.
Wind driven rain can often force its way through brickwork into wall cavities. If this damp trickles down the cavity and behind an extension, the homeowner faces a major problem, the outside wall then becomes an inside wall where rain-soaked bricks can cause problems in internal rooms – a problem solved by Manthorpe Cavity Trays.
The tray sits within the cavity and redirects water back thorough the external brickwork, allowing it to flow harmlessly away along an abutting roof.
Free Take-Off Service
Manthorpe also offers a free take-off service. For no extra charge our in-house specialists will advise the builder of the right type and quantity of trays for their project.
Find out more >