Need some help?
If you need to speak to someone about this product, our sales and technical support advisors are here to help.
Get in touch >
BIM
We have partnered with the BIMstore to help provide you with the highest standard of BIM content around.
Browse BIM Information >
Product Description & Key Features
Manthorpe's slim line over fascia ventilator ensures a flow of air into the roof space between the felt and the fascia board. 10,000mm² and 25,000mm² versions available. The product is designed with clear fixing points and a smooth leading edge allowing it to sit discreetly on top of the fascia board beneath the felt, both versions come complete with an intergral fly-screen. Products are robust enough to be used with any roof tile no regardless of the profile and can be fitted with plain tiles or slates.
Provides 25,000mm² airflow per metre
Units come in 1metre lengths
Fit with all roof tiles and slates
Discreet, low profile design
Fixes easily into the top of the fascia board
Fitted with integral flyscreen
Can be used in other roofing details
Literature and Technical Info
pdf (166.9 KB)
pdf (170.13 KB)
pdf (145.35 KB)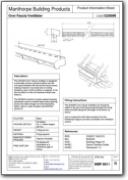 pdf (145.05 KB)