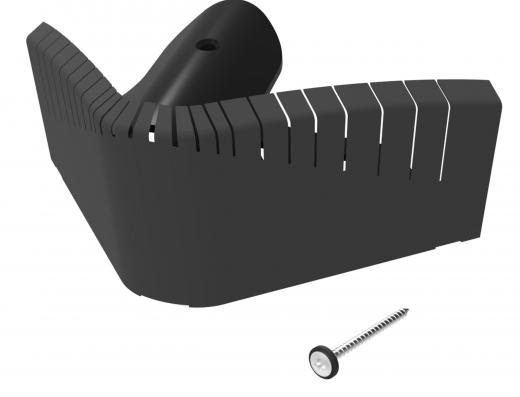 Need some help?
If you need to speak to someone about this product, our sales and technical support advisors are here to help.
Get in touch >
BIM
We have partnered with the BIMstore to help provide you with the highest standard of BIM content around.
Browse BIM Information >
Polypropylene (Bracket), LDPE (Filler)
Product Description & Key Features
Part of Manthorpe's dry fix roofing range, the Hip End Closer offers a cost effective dry fix alternative to mortaring in the end of a roll-out hip system, without resorting to expensive block end hip tiles. The flexible front face allows the product to conform to any of the market leading hip tiles, providing a neat closing solution to the end of the hip roof without having to mix up a small amount of mortar for an otherwise completely dry fix system.
Robust and lightweight alternative to block end hip tiles
Fits to all major angled or round hip tiles.
Removes the need for mortar when using dry fix roofing tiles.
Quick and easy to fit.
Literature and Technical Info
pdf (1.09 MB)
pdf (922.95 KB)