Need some help?
If you need to speak to someone about this product, our sales and technical support advisors are here to help.
Get in touch >
BIM
We have partnered with the BIMstore to help provide you with the highest standard of BIM content around.
Browse BIM Information >
150mm (Stonework) & 225mm (Blockwork)
12˚ - 24˚ (150mm coursing) or 17.5˚ - 34˚ (225mm coursing)
Product Description & Key Features
The GW291-LBS right hand Long Block Intermediate Tray suits low pitches in typically 150mm, 225mm coursing in either stonework or blockwork and has an upstand at one end only. This is so that the water can run out of the tray down the cavity tray system. The flexible perpend protector attached to the tray prevents driving rain penetrating the outer wall and tracking across the masonry. The tray has a unique front mortar clip that can be removed at any time once the mortar has set leaving a 25mm deep aperture into which the lead is inserted into and secured with lead wedges. The GW291-LBS right hand Long Block Intermediate Tray can also be supplied with short or long lead securely attached with staples in either code 4, code 5 (special order) lead or a lead replacement.
Stepped trays for pitched abutments
Adjustable stop end suits 150mm and 225mm coursing
814mm long tray suitable for details with a steeper pitch
Removable mortar clip for quick and simple lead installation
Preformed tray holds itself rigid within the wall cavity
Literature and Technical Info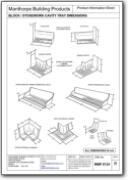 pdf (508.45 KB)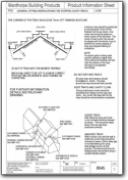 pdf (996.11 KB)
pdf (168.59 KB)