Need some help?
If you need to speak to someone about this product, our sales and technical support advisors are here to help.
Get in touch >
BIM
We have partnered with the BIMstore to help provide you with the highest standard of BIM content around.
Browse BIM Information >
265mm length x 155mm height
Product Description & Key Features
The GW297 External Corner is used where a straight horizontal cavity tray system is required to change direction around an external corner. Locating ribs ensure a positive overlap while the attached mastic tape creates a tight bonded seal. The GW297 External Corner tray can also be supplied with short, standard or long lead stapled and sealed to the tray in either code 4, code 5 (special order) lead or a lead replacement.
Preformed tray holds itself rigid within the wall cavity
Location ribs ensure correct overlap with adjacent trays
Mastic tape creates a watertight joint between trays
Removable foam strip leaves a slot for lead installation
Code 4 and 5 pre-leaded trays are available to order
Literature and Technical Info
pdf (601.24 KB)
pdf (711.9 KB)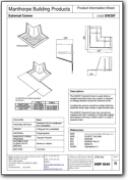 pdf (158.5 KB)