CURV® Cowled Universal Roof Vent
Need some help?
If you need to speak to someone about this product, our sales and technical support advisors are here to help.
Get in touch >
BIM
We have partnered with the BIMstore to help provide you with the highest standard of BIM content around.
Browse BIM Information >
PVC (Hood), Polypropylene (Base), Polymer Rubber (Flashing)
Product Description & Key Features
The Cowled Univeral Roof Vent is designed to provide a quick and simple solution to the problems of roofspace ventilation and mechanical extraction / soil stack termination through a wide variety of roof coverings. It is especially useful on jobs where the installer may not know what the roof covering is.
Designed to suit both large and small format interlocking tiles, both flat and profiled in design, including deep bold roll styles of tile.
The vent is fitted with a versatile flashing skirt which can be dressed to match the relevant profile of the roof covering and comes with an adhesive mastic backing which securely seals the flashing down to the roof. The hooded cowl protects the opening from the elements whilst providing an airflow path into the roofspace. An integral 4mm louvred grill within the cowl prevents the entry of debris and large nesting insects.
When using the vent for mechanical extraction or soil stack / vent pipe termination, the lower outlet is stepped to allow for 4", 5" or an oval 6" connection. The 4" connection can be joined to one of the Manthorpe range of GRPA Flexible Pipes to continue the ducting further into the roofspace.
Flexible flashing skirt allows for universal fitting
Suits a range of flat and profiled interlocking tiles, both large and small format
A range of hooded cowl colours are available
Independently wind tunnel tested by the BRE
Can be installed down to a minimum roof pitch of 12.5˚
Multiple outlets feed directly into roof space
4", 5" and 6" pipe outlets available for extraction
Provides a 4mm louvred flyscreen grill
Literature and Technical Info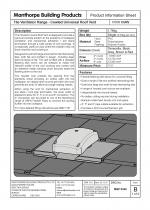 pdf (726.51 KB)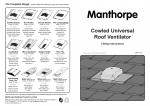 pdf (1.32 MB)