SmartVerge PP Handed Dry Verge


Need some help?
If you need to speak to someone about this product, our sales and technical support advisors are here to help.
Get in touch >
BIM
We have partnered with the BIMstore to help provide you with the highest standard of BIM content around.
Browse BIM Information >
Product Description & Key Features
The SmartVerge Polypropylene dry verge system provides an attractive finish to the verge detail of a roof for most makes and profiles of interlocking tiles laid between a batten gauge of 255mm to 345mm. The design of the system preserves the 'stepped' appearance of the roof tiles while maintaining the continuous line on the underside of the verge. The system is mortar-free and can be fixed in all weather conditions, easily capping over each tile in succession and once fitted they are weatherproof and maintenance free. The handed verge units are available in a range of colours to compliment any variation of roof design. Angled or round Ridge End Caps are available to protect the end of the ridge while the Eaves Closure fixes at the base of the verge, securing the first unit and preventing access for birds and large insects.
Fully compliant to the requirements of BS 8612
Fast and easy to install in all weather conditions
Suits small and large format concrete interlocking tiles
Provides a mechanically fixed, mortar-free solution
Drains moisture away from the wall to prevent staining
Manufactured from UV stabilised polypropylene
Available in a range of colours to suit various roof types
Literature and Technical Info
pdf (952.85 KB)
pdf (972.03 KB)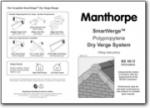 pdf (1.74 MB)