SmartVerge PP Eaves Closure
Need some help?
If you need to speak to someone about this product, our sales and technical support advisors are here to help.
Get in touch >
BIM
We have partnered with the BIMstore to help provide you with the highest standard of BIM content around.
Browse BIM Information >
Product Description & Key Features
The Eaves Closure Unit is the first element of the system to be installed and secures the lower end of the first verge unit at the eaves, providing a strong fixing and a foundation for the remainder of the system.
The design is ambidextrous in nature and can be used on both verges of the roof, with the rebated unit allowing adequate clearance for any extended guttering.
The GPPV-REC can be used in conjunction with both the Handed and Ambidextrous designs from Manthorpe's Polypropylene Dry Verge range.
Fully compliant to BS 8612
Fast and easy to fit in all weather conditions
Secure mounting for the first verge unit of a run
Units are ambidextrous
Rebated design helps to clear gutter overhang
Closes the end to prevent ingress of birds and insects
Literature and Technical Info
pdf (705.84 KB)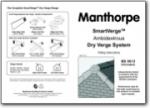 pdf (1018.65 KB)