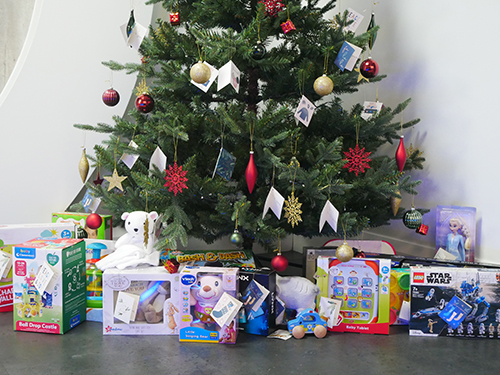 Manthorpe Building Products has donated over £150 worth of children's gifts to the Cash for Kids 2021 Mission Christmas appeal.
Staff were encouraged to donate a variety of presents for children who would potentially wake up to nothing on Christmas morning. Gifts for all age groups have been delivered to the drop off point, ready to be distributed in time for the big day.
Cash for Kids is a charity which aims to improve the lives of disadvantaged children and young people and is well known for its annual Mission Christmas campaign, backed by local radio station partners. In 2020, Mission Christmas collected over £12.7m in gifts and cash donations, which was used to make sure that 254,352 children and young people had presents to open on Christmas Day. As poverty figures continue to rise, the demand for support has increased.
Generous donations from Manthorpe's staff, have been commended by Managing Director, Paul Manning. Paul said: "The last 18 months have been challenging for everyone, particularly for those living in poverty.
"Giving back to the local community enables Manthorpe to play a positive role in our society and I am immensely proud of the generosity of all involved for their support of the Mission Christmas appeal. If these gifts help to bring festive spirit to those who receive them, we are delighted that we have been able to make this small difference."
There is still time to donate or drop off a gift before the big day. Visit https://cashforkids.org.uk/mission to find out more.
Back to News