Face-Fix Radiator Pipe Seal
Need some help?
If you need to speak to someone about this product, our sales and technical support advisors are here to help.
Get in touch >
BIM
We have partnered with the BIMstore to help provide you with the highest standard of BIM content around.
Browse BIM Information >
Polypropylene Thermoplastic Elastomer
Product Description & Key Features
The Face-Fix Radiator Pipe Guide and Seal (GRS-FF) has been designed to cope with a wide range of tricky situations. As with all Manthorpe radiator seal products, the GRS-FF provides an effective barrier for the loss of warm air to pipe entry points behind radiators.
The face-fix nature of the product enables the user to fit both block and studded wall details without any additional preparation work. The product will work with pipe work coming from below, above or from the side of the radiator. Fitting instructions are included.
Seals onto the plasterboard for accurate installation
Rubber grommets secure the pipes and prevent air loss
Pipes exit at the optimum angle to avoid kinking/sagging
The integral flexible perimeter seal prevents air leakage
Held by three secure fixing points offset from the penetration
Literature and Technical Info
pdf (262.83 KB)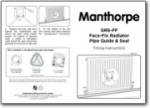 pdf (5.19 MB)