Need some help?
If you need to speak to someone about this product, our sales and technical support advisors are here to help.
Get in touch >
BIM
We have partnered with the BIMstore to help provide you with the highest standard of BIM content around.
Browse BIM Information >
Product Code G913-120-100
Polypropylene Foam Gasket Seal
Product Description & Key Features
The G913 range is designed to solve the problems of air leakage associated with built in timber joists.
The box is placed over the end of the joist and built into the inner leaf of the external wall construction with a foam gasket sealing up the penetration. As the timber dries out and shrinks the seal is still maintained between the box and the masonry, thus preventing air leakage into the cavity.
Located around the inner flange is a number of push out pockets for the location of restraining straps as required.
Substantial time savings on site
Compliant to Building Regulations Part L (Air Leakage)
Perimeter sealing flange with an air tight foam gasket
Rear location tabs provide a positive pressure
Cut out slots to fit restraining straps as required
Literature and Technical Info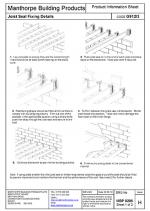 pdf (519.44 KB)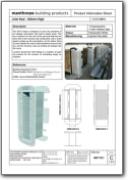 pdf (598.66 KB)