Need some help?
If you need to speak to someone about this product, our sales and technical support advisors are here to help.
Get in touch >
BIM
We have partnered with the BIMstore to help provide you with the highest standard of BIM content around.
Browse BIM Information >
Product Description & Key Features
The G952 has been designed to provide retrospective ventilation to cavity walls where no or an insufficient amount of Weep Vents have been used. In addition the G952 can be used to ventilate rendered wall where standard weep vents are notoriously difficult to detail. The product is quick and easy to install and comes in a range of colours to suit all common brick and render finishes. Further benefits of the product are that each unit is produced with louvred chevron grill which helps to protect against wind driven rain. The protruding drip feature on the front face of product directs moisture away from wall rather than down onto it which could lead to unsightly stains and damp patches.
Installed in a 25mm diameter drilled hole
Provides 260mm² ventilation airflow per unit
Louvred chevron grill to help protect against wind driven rain and insect ingress
The external flange covers any damage to the substrate caused by the drilling
Drip rib ensures clean moisture run off
Tube ribs ensure easy lead into the hole and help retain the vent in position
Literature and Technical Info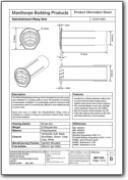 pdf (904.93 KB)