Need some help?
If you need to speak to someone about this product, our sales and technical support advisors are here to help.
Get in touch >
BIM
We have partnered with the BIMstore to help provide you with the highest standard of BIM content around.
Browse BIM Information >
Product Description & Key Features
The G966 Stacked Underfloor Void Ventilator is a telescopic ventilator providing twice the amount of airflow as a standard vent, to the underfloor void of a property. The current and future requirements of part M of the building regulations for accessibility into and around a domestic property, has led to the increasing demand for a double, stacked underfloor ventilator. The G966 offers the house builder more opportunity and space to create an accessible opening into the property, without jeopardising the amount of underfloor ventilation. Like our G965 product, the G966 offers a vertical telescopic adjustment of between 5 and 8 brick courses without the need for an extension sleeve. The horizontal outlet is long enough to bridge through an overall wall thickness of 350mm without the need for an additional extension. The front aperture of the G966 is designed for use with two G930 Combination Airbricks.
12,900mm² airflow
Allows ventilation to an underfloor void
Allows a vertical extension of 5-8 courses (318mm-575mm)
Allows a horizontal span of 415mm (including airbricks)
Removes the need for additional extension sleeves
Upper opening connects to a double airbrick
Literature and Technical Info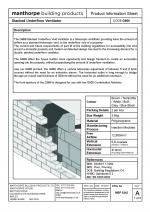 pdf (345.36 KB)