Need some help?
If you need to speak to someone about this product, our sales and technical support advisors are here to help.
Get in touch >
BIM
We have partnered with the BIMstore to help provide you with the highest standard of BIM content around.
Browse BIM Information >
Product Description & Key Features
Manthorpe Felt Support Trays are designed to bridge the rafters and provide support for the roofing felt. It eliminates the problem of rotting felt caused by the sagging and retaining of water by the felt at low-level eaves. The 1.5m long trays can be used in both new build and refurbishment situations and suits all rafter centres. Use the felt support tray in conjunction with other products from the Manthorpe range to provide a complete roof ventilation system.
Prevents the sagging of eaves felt
Eliminates rotting felt caused by ponding water
Fits all conventional rafter centres
The tray is suitable for refurbishment details
Literature and Technical Info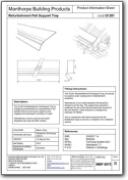 pdf (331.6 KB)