Need some help?
If you need to speak to someone about this product, our sales and technical support advisors are here to help.
Get in touch >
BIM
We have partnered with the BIMstore to help provide you with the highest standard of BIM content around.
Browse BIM Information >
Product Description & Key Features
The range of Cross Flow Eaves Panels are designed to provide a clear air gap between the roof felt and loft insulation in order to maintain an open airflow path into the roof space. The panels are available in a range of sizes to suit varying rafter widths and can be stacked to cover deeper insulation depths.
Provides 10,000mm²/M of airflow
Suits 600mm rafter centres
1 panel per rafter bay
Maintains airflow into the roofspace
400mm and 450mm versions available
Literature and Technical Info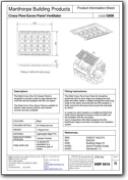 pdf (215.5 KB)