Need some help?
If you need to speak to someone about this product, our sales and technical support advisors are here to help.
Get in touch >
BIM
We have partnered with the BIMstore to help provide you with the highest standard of BIM content around.
Browse BIM Information >
Product Description & Key Features
The Manthorpe Flash Vent is a simple one piece roll-out, easy fit sheet that provides ventilation for abutment roof details, providing a weather-tight solution to the need for a continuous 5mm² of airflow. As it is made from just one component it is economical and easy to install. The roll-out system makes fitting a breeze as it is supplied in a handy box dispenser with no need for specialist fixing tools. Manthorpe's Research and Development team has addressed the need for a flexible and effective system by incorporating a series of nodules into the design on both sides of the flexible vent roll. This not only provides the required airflow but includes an integral fly screen and maximises support of the lead. The product has been independently wind tunnel tested for weather tightness and can be used over profiled tiles, non profiled tiles and slates without compromising its effectiveness. Two widths can also be joined together to fit any length of lap between the lead and the tiles.
5,000mm²/M of airflow
Suits all tiles and slates, both flat and profiled
Works down to a 15° pitch (extra roll required for pitches below 20°)
No specialist tools required for installation
Creates its own integral flyscreen
Literature and Technical Info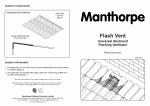 pdf (3.19 MB)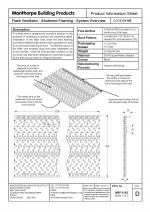 pdf (601.81 KB)