Interlocking Plain Tile Vent
Need some help?
If you need to speak to someone about this product, our sales and technical support advisors are here to help.
Get in touch >
BIM
We have partnered with the BIMstore to help provide you with the highest standard of BIM content around.
Browse BIM Information >
Product Description & Key Features
The Manthorpe interlocking plain tile ventilator is designed for use with small format twin plain tiles. The vent features a unique sliding mechanism to adjust its width to suit the different sizes of tiles available. Thanks to this patented design feature, it is the only vent in the market which suits all three styles of interlocking plain tiles; the Redland DuoPlain, Marley Ashmore and Forticrete Gemini. The curved, in-line profile helps to maintain an unbroken appearance to the roofline at high or low level with a range of colours available to suit varying roof styles. The tortured path through the internal weathering geometry is designed to maintain a constant airflow gap of 6,000mm² whilst channelling any water ingress out of the vent and on to the roof covering below, with the 4mm louvred grill in place to prevent the entry of debris and large nesting insects. When using the vent for mechanical extraction or soil stack / vent pipe termination, a 4" pipe adaptor can be fitted to the vent to connect to one of the GRPA Flexible Pipe range.
Innovative, patented tile vent design
Curved, In-line and discreet profile
Vent profile suits all top manufacturers tiles
Suitable for use down to a 22.5˚ roof pitch
Fully independently wind tunnel tested
Suitable for all interlocking concrete plain tiles
Base outlet feeds directly into roof space
Literature and Technical Info
pdf (1.78 MB)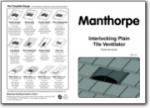 pdf (1.28 MB)