Need some help?
If you need to speak to someone about this product, our sales and technical support advisors are here to help.
Get in touch >
BIM
We have partnered with the BIMstore to help provide you with the highest standard of BIM content around.
Browse BIM Information >
BS 476 Part 3 - SAB/BS 476 Part 7 - Class 3
Glass Reinforced Polyester (GRP)
Product Description & Key Features
Designed for use when joining two separate roof coverings during refurbishment of existing roofs enabling slate and tiles to be laid adjacent.
Provides an excellent mortar key between the slates or tiles and joining strip
Life expectancy of over 30 years
Light and easy to transport
Simple to handle and install on-site
Virtually maintenance free
Mortar free, dry fix valleys available
Literature and Technical Info
pdf (433.11 KB)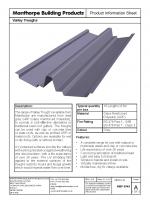 pdf (2.03 MB)