Roll-Out Ultra Ridge - 3M Kit


Need some help?
If you need to speak to someone about this product, our sales and technical support advisors are here to help.
Get in touch >
BIM
We have partnered with the BIMstore to help provide you with the highest standard of BIM content around.
Browse BIM Information >
Product Code GDRR-ULTRA-3M-BL
Product Description & Key Features
The Manthorpe Roll-Out Ultra Ridge is a mechanically fitted system which securely fixes the ridge tiles on to a roof and provides 5,000mm²/m ventilation to the batten void or roof space through the vent roll, which is the equivalent to a continuous 5mm gap. 
Due to the nature in which the system is fitted, there is no need for mortar, making the job of fixing the ridge, quick, easy, and clean, as well as making it possible during frosts and other adverse weather conditions.  The system is designed to suit traditionally deeper clay ridge tiles (both round and angled), but is also compatible with concrete ridge tiles and can be fitted onto most roof coverings, including profiled tiles.
The system is designed to fit a duo pitch roof which has a pitch between 14 and 45 degrees.  The system is available in two different colours (Black and Dark Brown) and can be used in conjunction with our Ridge End Caps and both our SmartVerge and Linear Dry Verge systems.
Specifiers should ensure that dry fix roofing systems are compatible with their detail prior to installation.
Fully compliant to the requirements of BS 8612
Mechanically secures the ridge tiles to the structure of the roof
Provides 5,000mm²/m of ventilation into the roof space
Compatible with thicker clay half-round and angles ridge tiles
The system is compatible with most slate, concrete flat and profiled roof tiles
One box supplies enough components for a 6m ridge length
Quick and easy to fix with no special tool requirements
Also available as a 6M kit
Literature and Technical Info
pdf (334.21 KB)
pdf (2.14 MB)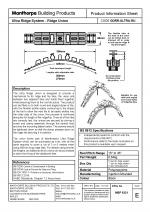 pdf (356.5 KB)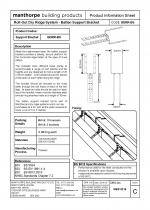 pdf (818.39 KB)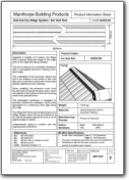 pdf (995.79 KB)