SlotDrain Drainage Channel
Need some help?
If you need to speak to someone about this product, our sales and technical support advisors are here to help.
Get in touch >
BIM
We have partnered with the BIMstore to help provide you with the highest standard of BIM content around.
Browse BIM Information >
Product Code GPDST-1000-BL
Product Description & Key Features
The Manthorpe SlotDrain is a discreet way of removing unwanted standing water from outside paved areas. Once installed, the only visible part of the drain is a 20mm wide slot. It is ideally suited to block paving coverings up to 50mm depth, but can also be used with surface finishes in areas around the home such as patio's and pathways and is especially well suited to part M building regulation thresholds. Other components are available to complete the system such as the SlotDrain Junction Unit and an Accessory Pack containing a Leaf Trap and Endcaps.
Ideal for threshold drainage to comply with Part M regulations.
Can be cut to length with reusable joints along the base.
Lengths fix together for quick and easy on site assembly.
Unique clip feature will not block with silt or site debris.
Multiple 4" diameter water exit points with easy cut-out feature
Literature and Technical Info
pdf (215.7 KB)
pdf (558.99 KB)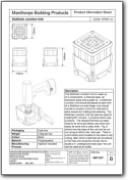 pdf (739.24 KB)