Need some help?
If you need to speak to someone about this product, our sales and technical support advisors are here to help.
Get in touch >
BIM
We have partnered with the BIMstore to help provide you with the highest standard of BIM content around.
Browse BIM Information >
Base material: uPVC Top material: Polypropylene
Product Description & Key Features
As modern building practices have greatly improved the quality of new homes in the UK, some have actually suffered from the advances in building regulation. Bird species such as swifts have occupied the cracks and crevices in our buildings for thousands of years, but the improved standard and style of modern construction has put their survival in our towns and cities at risk.
These popular birds come to the UK for three months during the summer to raise their young and can be seen on warm evenings giving spectacular displays. They eat large quantities of insect pests and spiders. They prefer nesting in small groups but the population has been dwindling for many years as suitable nest sites have become scarcer.
The Manthorpe Swift Brick has been developed in conjunction with major house builders and conservation experts to provide a safe, spacious and habitable area to allow swifts to nest within the well built construction of modern houses.
Takes the place of a single brick the coloured face blends in to the surrounding masonry
Neat and simple to install, can be fitted quickly during the bricklaying.
Integral nest concave provides ideal starting point for nest building
29 x 65 mm opening leading into a recessed entry tunnel
413cm2 of floor area gives the maximum habitable living space within the wall construction
A built in cavity tray detail within the roof of the brick protects against water ingress.
Antique Red and Terracotta versions now available in a granulated finish
Literature and Technical Info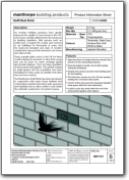 pdf (1.72 MB)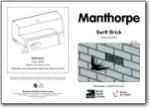 pdf (623.51 KB)