SlotDrain Drainage Channel
Need some help?
If you need to speak to someone about this product, our sales and technical support advisors are here to help.
Get in touch >
BIM
We have partnered with the BIMstore to help provide you with the highest standard of BIM content around.
Browse BIM Information >
Product Description & Key Features
The SlotDrain Junction Unit (GPDST-JU) is made up of 3 components; a channel base, an extension piece and a grate lid. In any run of SlotDrain, a Junction Unit should be used at each end to enable access for rodding and cleaning. In longer runs, a Junction Unit should also be placed at 3m intervals. Junction Units can also be used to create a 90° corner, a T-junction or a 4-way junction.
The sides can be cut to create multiple junction transitions
Extended channel sleeve allows use with taller SlotDrain
High heel friendly clip down grate with optional screw fixings
Units fix together for quick and easy on-site assembly
4" diameter water exit point with easy cut-out feature
Literature and Technical Info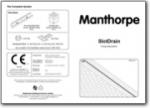 pdf (510.96 KB)
pdf (1.1 MB)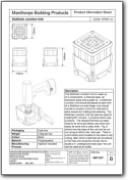 pdf (739.24 KB)